A brief history of the Tendring Hundred & District Bowling Association
As researched by  David Warren, Association Hon. Secretary
Part 1 – 1923 to 1939
The Tendring Hundred Bowling League was founded in 1923 by outdoor bowls clubs Brightlingsea, Elmstead Market, Walton-on-the-Naze, Wivenhoe, Frinton and Dovercourt. Each club nominated officers to run this new Tendring Hundred Bowling League (not yet registered as an Association) and the clubs competed in this new league for the Tendring Hundred Bowling League Challenge Cup presented by Mr & Mrs J. L. Corser of Frinton Bowls Club.
The same trophy is still played for today in the Association Premier League. The engraving on the trophy indicates that Dovercourt were the form team at that time, winning the league in 1923 & 1924 but after winning the league again in 1925 it's a mystery why the Dovercourt are never mentioned again in any Tendring Hundred League records until their application to join the league some 44 years later in 1969. For the rest of the 1920s it was Elmstead Market that had the strongest membership of men and ladies, described as 'giant killers and difficult to beat', and they won the league over a number of years.
This was a league for men members only, as at that time the lady bowlers in the area did not have a league.
Brightlingsea won the league in 1928 and again in 1930 when they invited the other clubs to play them in what was to become the first 'Champions versus the Rest' match which continued as an annual match and is still run today. Also in 1930 it is recorded that Brightlingsea made a proposal "that a resolution be moved that all league matches shall be fixed" – we think now that they meant fixed dates, unfortunately the word 'fixed' has a different meaning 80 years on.
 At that time there were some useful lady bowlers around and in 1931 Brightlingsea proposed that ladies be allowed to play in the league but this proposal was defeated.
In 1932 there were two Frinton clubs in the league, Frinton Town and Frinton Queens, the latter playing at what is now Frinton Lawn Tennis Club. Parkeston Railway joined the league in 1933 and that year Walton won the league for the second year running. At that time the clubs annual affiliation fee to the THBL was £1.1s.0d. For 1934 it was agreed that for league matches, in the event of a draw, an extra end would be played by each rink, replacing the shared points rule.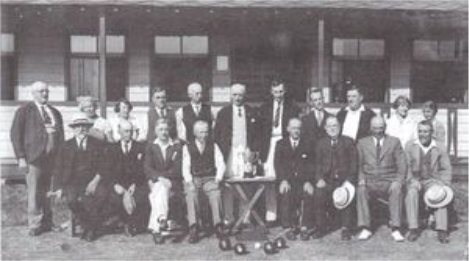 Brightlingsea won the league in 1934 & 1935 
The picture shows the league winning players outside their Brightlingsea clubhouse in 1934.
Frinton then took control of the league winning in 1936 and in 1937.
It was at this time that the lady bowlers were gaining strength in this area of Essex with the first inter-county match being played in Colchester with some local bowlers involved. A newspaper reporter stated that "Many men have expressed their surprise at the grace and skill exhibited by the ladies. However, bowls is a game pre-eminently suited to women and is free from all those harmful violent forms of physical exertion which I deplore among the fair sex". "The ladies know how to dress and in this respect are a pattern the men could well follow. A tailored coat and skirt, three-quarter length in cream serge with white jumper or blouse, brown shoes, brown stockings and white felt hat, and very nice too. It makes the men seem quite agricultural".
For some unknown reason Brightlingsea dropped out of the league in 1938 and the same year a new name went onto the league trophy Parkeston Railway. Brightlingsea were still missing in 1939 when Wivenhoe won the league and at that time all competition stopped on the commencement of WW2.
 Part 2 – 1946 to 1957
During the war years some clubs continued to operate but the Tendring Hundred Bowling League shut down until early 1946 when a meeting was attended by representatives from Wivenhoe, Parkeston, Brightlingsea & Frinton together with Kirby & Brantham who now joined this group.
Parkeston reported that their green was not yet repaired after being damaged by enemy bombs and the greens at both Kirby and Frinton were unplayable. Clubs discussed playing some league matches on neutral greens or home & away matches on the same green but with only Wivenhoe, Brightlingsea & Brantham having greens ready the League Secretary cancelled the 1946 league. The clubs met again in January 1947 and agreed that the league would resume with six clubs, Brantham, Brightlingsea, Kirby, Wivenhoe, Mistley & Maningtree and Frinton Queens. 
With a shortage of players at most clubs it was proposed that lady members be eligible to be registered for the men's teams – the proposal was accepted. Brantham won the first post war league title.
Some sort of upset occurred in 1948 and Brightlingsea withdrew their EBA & ECBA affiliation but then received a stiff letter from the Group 1 officers warning them that in future Brightlingsea would not be able to play any affiliated club. Brightlingsea rescinded their withdrawal. 
Brantham continued to show their strength winning the league again in 1948 and in 1949 when they also won the first TH Triples Competition which was played at each club and the finals played at Kirby  The prize was £3.3s.0d.
At this time Holland-on-Sea had two clubs and they both joined the Tendring Hundred Bowling League in 1950.
The oldest, established in 1935, were based at the Roaring Donkey Public House and the other, established in 1949, was in York Road. The Roaring Donkey Club was officially known as Holland-on-Sea B.C. and consequently the other club became known as York Road B.C. Mistley & Manningtree won the league, Wivenhoe the Triples and Brantham a new TH Fours competition.
Happy Valley B.C. were formed in late 1950, had their first season in 1951 when they were also elected to join the Tendring League. Mistley & Manningtree won the league again in 1951 heading Frinton on shot difference. 
At this time the league agreed to pay 10 shillings to the greenkeeper where competition finals were held. At the AGM in 1952 Clacton were invited to join the league but for some unknown reason they declined and in fact did not join the league until 1963. Mistley & Manningtree became league champs again in 1953 and were presented with a photograph of their winning team.
 In the Tendring area there were many very good lady bowlers but they were yet to establish a ladies league so at the TH League AGM a lady, Miss Culling (1938 National singles winner), became the Brightlingsea delegate and together with other ladies was allowed to enter the men's TH Competitions.
 York Road won the league for the first time in 1954 with Brightlingsea so short of players they struggled to complete their fixtures and finished bottom. Evening league matches started in 1955 with Kirby winning the league just ahead of Holland's Roaring Donkey club. 
Another first in 1955 was a lady winning a TH Competition – Brightlingsea's Miss Culling became the TH 4 wood singles champion.

In 1956 after an objection about rinks selected for league play, it was agreed that prior to play the score cards would be placed face down and the visiting captain would have the right to nominate the rink numbers – a procedure we still continue to follow. 
Happy Valley were suddenly faced with increased season ticket charges by Clacton Council and in 1957 were forced to resign from the TH League when the Council terminated the use of their green. The club had no option but to disband.  We would not see them return to league play again until 1965.
2017 NEWS
PARKSTON RAILWAY CLOSE DOWN
Parkeston Railway were founded in 1929 and joined the Tendring Hundred League in 1933. With them in the league at that time were Brightlingsea, Frinton Queens, Frinton Town, Elmstead Market, Walton –on- Naze & Wivenhoe.
Parkeston soon became a very active and competitive club winning the league in 1938. There was then a wartime break and a post war period when the club facility had to be rebuilt. Parkeston came back strongly with players winning the County Pairs in 1950 and there membership grew.
The club have continued to give support to the Association with members on Association committees and holding the position of Association President in 1987 and in 1997.
Their last league match was last Thursday 7th September 2017 in the Windsor League when they entertained Kirby B.C. and won by 6 points to 4.